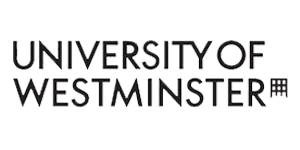 University of Westminster
University of Westminster started out 180 years ago as the first Polytechnic in London and one of the first in the UK, established to educate the working people of London. The Polytechnic was re-designated as the University of Westminster in 1992. Today the University continues to build on this reputation, helping students from a variety of backgrounds to realise their full potential. The University supports more than 19,000 students of over 160 nationalities on undergraduate, postgraduate and professional courses.
The University has almost 200 industrial partners including large corporates, SMEs and charities, which offer placements and work experience to Westminster students. In Harpocrates the University of Westminster is represented by the Centre for Parallel Computing (CPC   ) team. The Centre has over 15 contributing members, a mixture of academic staff, part-time senior researchers, and full-time postdocs. Its research focuses on parallel and distributed computing, especially on secure and scalable application deployment and run-time orchestration in the cloud to edge computing continuum. The CPC has been successfully involved in over 20 European projects in the past 15 years, leading and coordinating several of these efforts.
The main recent research outputs on the Centre are the MiCADO cloud orchestrator solution that enables the automated deployment and run-time management of microservices-based applications in heterogeneous cloud infrastructures, and the CloudSME and CloudiFacturing platforms that support manufacturing and engineering companies to utilise cloud-based high-performance computing services to run simulation and optimisation applications. These solutions have already been utilised by close to 100 companies and generated significant economic impact.
Role in the Harpocrates project
As main responsibility, the University of Westminster's CPC will lead a work package related to the development and evaluation of the two selected use cases that implement privacy preserving machine learning and data analytics solutions for cross border scenarios in healthcare and local administration. Additionally, the CPC will have a main role in the conceptualisation of the Harpocrates platform and the integration of the various components into the final solution. The CPC will also contribute to the core cryptographic research and will also be responsible for technical aspects of the management activities.