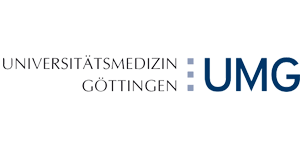 Department of Medical Informatics, University Medical Center Göttingen
The University Medical Center Göttingen (UMG) is made up of the Medical Faculty with research and teaching and the University Hospital with patient care. The combination of these three areas under one roof is unique in southern Lower Saxony and entails numerous positive interactions, such as the swift transfer of innovative therapy options into patient care and education.

The department of Medical Informatics of the UMG is one of the largest groups in Medical Informatics in Germany and has widely renownend expertise in collaboration platforms for clinical research and translation. It builds and runs research data management for large clinical research cooperations, such as the German Centre for Cardiovascular Research.
The department is also responsible for the hospital's medical data integration centre of the University Clinics, allowing a swift translation from research to patient care. A focus of the institute is on secure and reproducible biosignal analysis – in particular sleep data – and clinical decision support.
Role in the Harpocrates project
Data sharing and analysis platform for sleep demonstrator