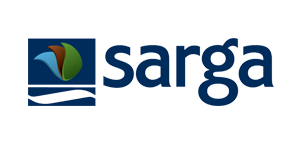 Sociedad Aragonesa de Gestión Agroambiental ( SARGA )
The Aragon Company of Agri-environmental Management S.L.U (SARGA) is a public company of the Government of Aragon that implements a wide range of projects and services addressed to improve the Aragon region. The company employs approximately 1,200 highly qualified people who develop over 12 services in Strategic and European projects, based on our principles of efficiency, flexibility, adaptation capacity, transparency and professionalism.
The company holds a wide experience in the EFQM excellence model, being granted before its fusion the EFQM 500 + seal and, therefore, becoming the first regional public company in Spain and the second company in Aragon -including the private sector- to receive such award . With regards to the environmental and quality management systems, SARGA was granted the certificates ISO 9.001:2008, ISO 14001:2004, and OHSAS 18001: 2007 (occupational risks).
SARGA counts with wide experience in the management of EU and international funding projects in different fields such as open data, AI, clean energies, biomass, rural sustainable development, efficiency of irrigation systems, climate change, waste management, environmental quality or forest fires. Since 2012 year, SARGA and the eAdministration and Digital Society General Direction have worked in the development of Aragon open data portal and in the open data Homer project and Interreg Med Odeon. Sarga has also participated in Horizon 2020 projects based on new technologies such as PolicyCloud, H2020 COLA project and Grapevine tentec project
Role in the Harpocrates project
SARGA's main role in the Harprocates project is to be an end-user of the experiment for public administrations u. Digital Society General Direction of the Aragon Government SARGA will mainly participate by defining experiment requirements and testing and exploiting the solution in WP8. They will also have contributions in training and dissemination (WP2) and Commercial exploitation and sustainability (WP3)